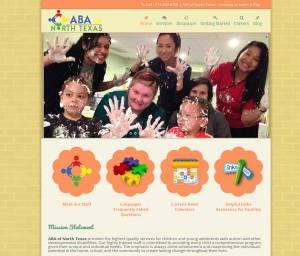 North Texas Web Design is proud to announce the launching of ABA of North Texas. ABA of North Texas provides Behavioral Services for children and adolescents with autism spectrum disorder and other developmental disabilities.
The programs at ABA of North Texas consist of center-based and in-home consultation and supervision services which are based on principles of Applied Behavioral Analysis and provide a comprehensive treatment plan.
Although the principles of Applied Behavior Analysis are the foundation of every program, ABA of North Texas' delivery format varies depending on the child's age, interests and capabilities. Their goal is to help each individual reach their potential by capitalizing on their strengths and building upon their weaknesses. Their programs include a combination of Incidental Teaching, Discrete Trial Teaching, Pivotal Response Training (PRT), Verbal Behavior Training (VBT) and Proactive Behavior Strategies. Each program is designed and supervised by a Board Certified Behavior Analyst (BCBA).
ABA of North Texas is proud to offer a culturally diverse environment. Their current staff collectively speaks eight different languages. ABA of North Texas understands the cultural differences presented in the North Dallas/Collin County area and are willing to help parents fill out forms, interpret parent training sessions, and educate other staff members as to special diets and religious beliefs.