North Texas Web Design is proud to announce the launching of AMXCATMAN, L.P.  AMXCATMAN is a company of the AMX Group of Companies, which was founded in 1996 and has quickly become a leading participant in the construction management, environmental, specialty contracting and restoration & reconstruction industries.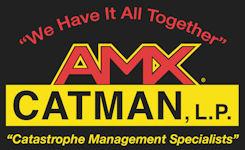 AMXCATMAN is a Full Service Provider with our customers making one call for "peace of mind" knowing all of their needs involving environmental, construction management, special industries emergency mitigation, restoration & remediation and reconstruction can be addressed.
AMXCATMAN also offers a unique service and commitment to our commercial clients through our "Back In Business" (BIB) Catastrophe Management program. (See inside for more details).
AMXCATMAN is built upon a responsive WordPress platform. After several discussions with our client to fully understand their mission and business model, we opted for WordPress for three main reasons.  First was our clients desire to be able to manage their own website. Second was our clients desire to have a responsive (mobile friendly) website.  Third was our clients requirement to have a cloud based eSignature feature for documents that need to signed anywhere in the world. We used DocuSign for this, which is easily integrated into WordPress.
For more information about AMXCATMAN, please visit their website at www.amxcatman.com.