Benefits of SEO for Your Business Marketing
Benefits of SEO for Your Business Marketing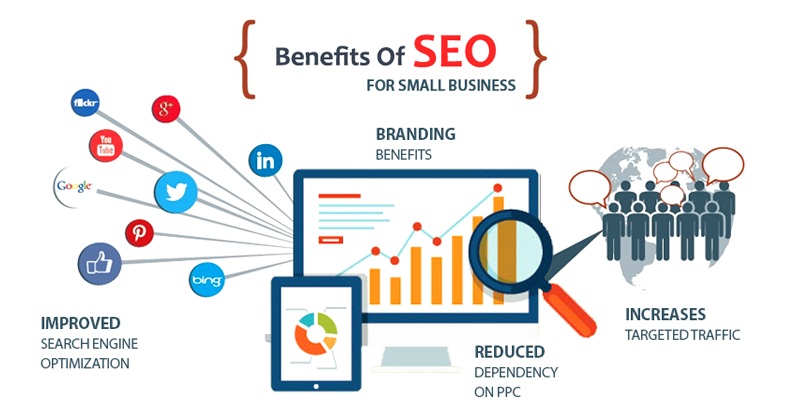 Optimizing your content is essential for adopting a successful digital marketing strategy.
It is important that all businesses understand the key benefits of SEO and how powerful it is when used effectively.
What is SEO?
SEO (Search Engine Optimization) improves how your site ranks in search engine results. The higher up your site lands, the more chance it has of being seen by the right people. When researching, your target consumers are searching specific words and phrases and it is vital to be aware of what these keywords are.
When Google ranks sites on the first page of search results, it didn't get there by accident – the content has been skilfully optimized to be found using specific keywords that the business knows their target consumers are using.
SEO is Cost-Effective
SEO-focused content is well worth the investment and the time it requires. Incorporating SEO into your business marketing will help generate traffic for months after publishing your content. If you stay aware of the current trends and changes, your top spot on Google is free of charge and can last for years to come.
Credible Business
When your site appears higher in search engine results, it builds credibility because consumers assume that you are one of the leaders in your industry. With high ranks comes an automatic trust and authority from your consumers. Your high ranking proves that you are a popular site to visit and therefore offer quality services or products, translating into more sales.
Customer-Centric Methods
These days, the traditional methods of outbound advertising are not always considered polite as they reach out to potential customers whether they are welcoming to it or not. Outbound methods such as cold calling and emailing are intrusive and can often be off-putting.
Inbound advertising is a far greater alternative as it offers your target audience the chance to make the first contact. Inbound methods are more appealing for this very reason. By optimizing your site, you will be creating easily accessible information for consumers who are actively looking.
Consumers rarely purchase on their first visit to a website, so keyword optimization will go a long way in getting them to return once they are ready and you will stand a better chance of it translating into sales.
Contact us at North Texas Web Design of McKinney, Texas, if you need assistance with optimizing your content for your business marketing. Our passion is helping businesses grow in this digital age.
See what some of our customers say about us!
Working with North Texas Web Design has been a great experience. As a client I have been treated with the utmost professionalism and respect. I truly appreciate the trust relationship I have built with Mike and his team. I highly recommend North Texas Web Design for building and maintaining not only a web site, but a web presence for my brand and my company!

Stan Mefford with Just Shoot Safely

The most important thing these days is SERVICE…period. That is, a company provides it, or they don't! Now don't get taken like we all have, there are many levels of service from basically nothing ("are you sure you have the device plugged IN and turned ON?" or "I can't understand what you are saying, can you speak English? or do you even know how to spell WEB PAGE?….totally useless service) to placing the service call, having a human answer the phone that can speak and understand English without a "out on the edge" accent and expeditiously remediate the problem! One that is with you the entire way. In my opinion PWD/NTWD provides the highest level.I have been with NTWD for about 5 years with several Web Sites and numerous email accounts and yes I did have a glitsh, well more it was a change of server. I was on the phone with them and the problem was resolved, just like that! It wasn't really a problem but a change in configuration, even better.The next most important thing is quality. NTWD provides top quality work. Basically anyone can build a web page or host data or email. Mike at NTWD delivers the best that is possible, always there and only a phone call away….if you happen to need help. SECURITY????? That is a big concern and should be of everyone! I am totally concerned about security but not with my NTWD services. I know they are covered, Mike keeps up with technology.I have a choice and so do you. You want to have a strong and SAFE site and service? Do not go any further, simply go to NTWD. As an overall package (design and service), there is none better.Dang I forgot to mention money, fees, skins, bucks, green backs, dough, bread….etc. You want a strong quality product (and service) for a very reasonable price……. The work is done for you. Go to NTWD. Don't go anywhere else. If you already have, get your tail to NTWD as soon as you can.

By Gordon McAleb of Einstein Engineering

Working with Mike and North Texas Web Design was a great experience. They were able to create my website with the exact same graphic design and requirements I gave them, and it only took them a couple of days. I appreciate the professionalism and the wiliness to listen to my picky demands. My website looks just the way I envision it. I look forward to continue this relationship for future updates. I'm also happy to give some great references to a couple of my buddies for their websites.

Armando Cobo