Google's Fresh Content is Still More Important Than Ever
Google's Fresh Content is Still More Important Than Ever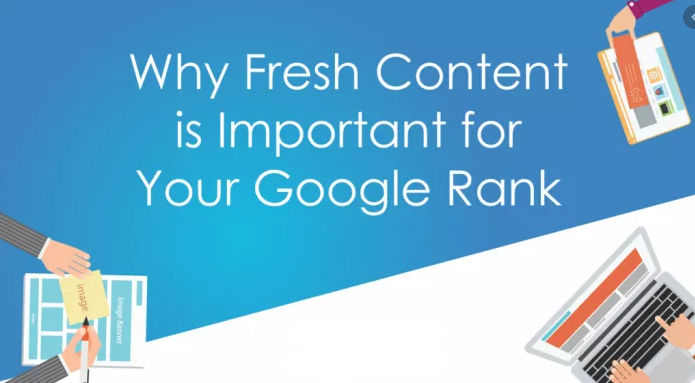 Google relies on a series of complex algorithms to deliver correct results to its users on different subjects. One of the most essential factors in this algorithm is how fresh content on any particular website is. Having new content was not a priority a year or so ago. However, as people's need for the latest and most relevant information persisted, so did Google's need for fresh content.
Whereas this doesn't necessarily mean having new content on your site every day, it means that website owners should update the content on their websites to be more recent, factually correct, and relevant. More so, when the page had already received a good ranking, updating information to make the information more relevant can give it a boost.
The Freshness Algorithm
A couple of years ago, a website that updated content a couple of times a month would have been considered as fresh. In today's world, however, the game is on a different level. For a website to be ranked as fresh, it needs to have new content about five or more times a week. Since you are not trying to rank various pages on your site using one keyword, you must keep the new content within the previously indexed topic's bounds. This way, there is a continuation of sorts, meaning that every page will continue to rank as it should, thereby preventing content cannibalization on your website.
Fresh Content
To keep your position or, better yet, rank higher in search engine results, you need to have a constant flow of fresh content onto your website. Therefore, for your pages to rank well for particular keywords, you need to ensure that there is new content coming in. Although creating new content is not that easy in some instances, you can decide to spruce up older pieces to make it more relevant. A website page that hasn't been updated in a while is often deemed old. For this reason, sites with newer information are given preference.
Social Media
Social media is also a huge part of keeping things in tip-top shape. Today, it's one of the most important ranking signals on search engine algorithms because social media is fluid and almost always updated. This means that you can improve a page's ranking by simply sharing content onto social media, which people can then use to head over to your page. This process shows Google's algorithms that the content is still relevant and subsequently keeps it well ranked.
When the information needed should be the most recent and updated, many websites are left behind in times such as these. To help businesses stay updated on industry best practices, we at North Texas Web Designs are dedicated to helping our clients develop the best websites and maintain them.
Located in McKinney, TX, we are sure to provide the best for all our clients wherever they may be.
North Texas Web Design of McKinney, Texas, strives to follow all of Google's latest rules and algorithms. Our passion is helping businesses grow in this digital age.
See what some of our customers say about us!
Working with North Texas Web Design has been a great experience. As a client I have been treated with the utmost professionalism and respect. I truly appreciate the trust relationship I have built with Mike and his team. I highly recommend North Texas Web Design for building and maintaining not only a web site, but a web presence for my brand and my company!

Stan Mefford with Just Shoot Safely

We came to North Texas Web Design as a new company offering products which are most often searched for on the web. Our website has been one of our most valuable business tools, as we knew it would be. Mike and his team worked very hard to understand our business and the challenges we faced in a very competitive market. I couldn't be happier with our decision to choose them to design our website. We're very proud of it and they are always there when we need to add products or make any changes to the site. We made a great decision to use North Texas Web Design and it pays off for us daily.

US Eco Solutions

The most important thing these days is SERVICE…period. That is, a company provides it, or they don't! Now don't get taken like we all have, there are many levels of service from basically nothing ("are you sure you have the device plugged IN and turned ON?" or "I can't understand what you are saying, can you speak English? or do you even know how to spell WEB PAGE?….totally useless service) to placing the service call, having a human answer the phone that can speak and understand English without a "out on the edge" accent and expeditiously remediate the problem! One that is with you the entire way. In my opinion PWD/NTWD provides the highest level.I have been with NTWD for about 5 years with several Web Sites and numerous email accounts and yes I did have a glitsh, well more it was a change of server. I was on the phone with them and the problem was resolved, just like that! It wasn't really a problem but a change in configuration, even better.The next most important thing is quality. NTWD provides top quality work. Basically anyone can build a web page or host data or email. Mike at NTWD delivers the best that is possible, always there and only a phone call away….if you happen to need help. SECURITY????? That is a big concern and should be of everyone! I am totally concerned about security but not with my NTWD services. I know they are covered, Mike keeps up with technology.I have a choice and so do you. You want to have a strong and SAFE site and service? Do not go any further, simply go to NTWD. As an overall package (design and service), there is none better.Dang I forgot to mention money, fees, skins, bucks, green backs, dough, bread….etc. You want a strong quality product (and service) for a very reasonable price……. The work is done for you. Go to NTWD. Don't go anywhere else. If you already have, get your tail to NTWD as soon as you can.

By Gordon McAleb of Einstein Engineering