We recently completed building a replacement website for the Greater Denton/Wise County Realtor Association (GDWCAR) in Denton, Texas. They had a very old and outdated website and came to us to build a new, modern, responsive and state-of-the-art WordPress website. This new website also had to replace a number of other interfaces GDWCAR was paying for on a monthly basis, with one of the ideas behind this new website to reduce their annual web related expenses.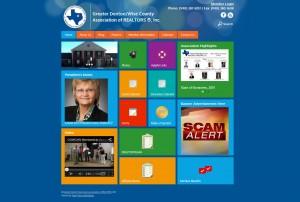 GDWCAR also wanted a Windows 8 "metro" (flat) style of design. We selected the WordPress Metro theme, which evolved from Microsoft's new Windows 8 operating system.
As we progressed through the project, our client continually found new requirements, requirements not initially identified.  This is unfortunately very common with most projects, as it's often difficult, even impossible, to foresee all requirements when building an entirely new website.
The end product of our collaborative work is a stunning and very new website, one that GDWCAR is extremely proud of.  As important, over 2000 realtors have enrolled in the new GDWCAR database, and can now make payments for their quarterly dues, pay for special events, and such, using an integrated interface to PayPal.
If you are looking for a new WordPress website, one that conforms to the latest in design standards, such as responsive websites, give us a call. We would love to work with you to build you a new, modern website.  Just call us at 214-534-6830.