Start new Online Firearms Website
Starting a new online firearms website doesn't have to be scary!
So grab a piece of the Action!
As the debate over gun control rages across America, the firearms industry in the United States is thriving. Profits for both gunmakers and retailers are setting records, driven by fear, politics, and recreation. If you're considering opening an online firearms website, here are a few important facts for you to consider.
$31.8 Billion
The estimated economic impact of the US firearms industry in 2012 was just under $32 Billion, according to data from the Nation Shooting Sports Foundation (NSSF). That's up from $27.8 billion in 2009, due to job creation and new sales taxes. 26,325 new gun-related jobs have been created over the past two years, according to the NSSF.
310 Million
As of 2009, the estimated number of guns in circulation in the United States was 310 million, according to a survey from the National Institute of Justice. That number included 114 million handguns, 110 million rifles and 82 million shotguns. The number of available guns has increased 62 percent since 1994, when there were about 192 million firearms in circulation.
$6 Billion
The estimated revenue brought in by the US gun and ammunition manufacturing industry in 2012 totaled $6 Billion, according to a financial report by the research firm D&B First Research based in Austin, Texas.
Obama's presidency has been a boon for gun makers, prompting industry analyst Jim Barrett to call the President "the best thing that ever happened to the firearms industry," in an Associated Press interview. According to an October analysis from AP,  Ruger's sales have increased 86 percent since Obama took office; Smith & Wesson's have gone up 41 percent.
Are you considering opening a new online firearms store?
Opening a new online eCommerce firearms website does not have to be scary nor intimidating.  North Texas Web Design has already helped two new businesses do just this, and the experience we learned from developing these websites can easily be transferred to other, new similar projects.
While certainly not an all-inclusive list, listed below is a summary of what we did to implement two new firearms businesses – Republic of Texas Arms and Texas Gunslingers LLC.
Shopping Cart – after a lot of research, we selected the NetSource Product Cart as the shopping cart we recommended for both sites.

Product Cart is a robust 3rd party shopping cart that has a long history in the eCommerce arena.
Trust Commerce – another reason we selected Product Cart is that it already had a built in interface with Trust Commerce – a credit card merchant. We discovered early on that the really large payment gateways, including Authorize.net and PayPal, will not allow payment of firearms by credit card, so selecting an online shopping cart that already had an interface with a credit card merchant that did accept online payment of firearms was critical.

Enhancements – we also selected Product Cart because at least two firms have evolved over years, building "add-ons" that enhance core features.  Some of the add-ons we implemented include:

Home page Slider & Carousels – allows website owners to easily customize the appearance of their Home page with product images as well as things like Featured Items, Specials, etc.
Abandoned Cart Follow-up – a key feature that automatically sends a customer who abandons a search an email the next day seeking to offer assistance – has a very high ROI!
Notify Me – a HUGE feature enhancement which automatically notifies prospective buyers when an out-of-stock product is back in stock.  Another add-on with HUGE ROI!
Tabbed Product Descriptions – just like all the big eCommerce sites, this add-on displays important product information in a user convenient display, and includes the option to accept customer reviews.
Image Batch Process – as much as we like Product Cart, it's not real user friendly when uploading a large number of product images.  Using the Batch Process add-on, you can easily upload hundreds of images all at the same time, and properly associate them with the correct product!

Customization with RSR – both Republic of Texas and Texas Gunslingers opted to initially go with RSR, which happens to be one of the largest firearm wholesalers in America.  In order to work with any wholesaler, we had to first learn how to interface with RSR.  Once we did this, we developed customized scripts that do the following:

Hourly inventory updates – with over 20,000 products in their product inventory, its critical their inventory been kept current with RSR.  We developed custom scripts that update price and availability hourly, starting when RSR opens for business to an hour after they close for the day (just to be sure).
Weekly updates – RSR updates their new product inventory typically on Fridays, so we developed additional custom routines that download all new products as well as images.  These updates are performed on Friday's.
Narrow By – we've learned that when prospective buyers shop online, they want to be able to quickly narrow their search to the exact firearm or related product. We've customized the core Product Cart Narrow By feature to allow a buyer to quickly and easily locate the product their looking for.  Examples may be looking only for a certain caliper and manufactured handgun, such as a 9mm Glock.
In-Stock versus All Products – we've customized the core Product Cart to allow prospective buyers to narrow their search to include only in-stock products.
Building and owning your own online firearms website is a reality that can easily happen.  You too can get a piece of the exploding firearms industry in the United States.  If what we've explained in this article is of interest to you, please give us a call so we can have an in-depth discussion.  You can also find more information on our website at On-line Firearms Website as well as Growth Opportunities in America in the Firearms Industry.
Customer Testimonials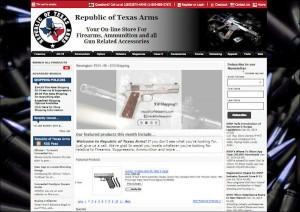 From Brian with Republic of Texas Arms – "I have been impressed over and over with your knowledge and professionalism.  My site is a very complicated ecommerce business that requires multiple components all working together, but to the customer, it is a pleasing and easy to navigate website.  I receive compliments on how well it performs and how well it is built.  I set out to build a world class website and you have accomplished it. Thank you for making this a reality!"
Brian W. Mihalik – Republic of Texas Arms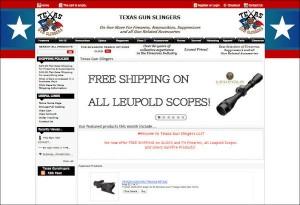 From James with Texas Gunslingers LLC – "Mike McLeland is a true Christian businessman very professional, eager and enthusiastic – always willing to help and very upbeat. It has been a pleasure to work side-by-side with him building my business and he's always been there for any advice or anything thing that I needed. He's also very prompt and very professional and I highly recommend you use North Texas web design."
James Gilcrease – Texas Gun Slingers LLC
Ready to Grab some of the Action!
So if you're ready to grab some of the online firearms business with your own online firearms website, just give us a call at972-474-7035 or go to our Contact Us page and complete the required information and I'll give you a call as soon as I can.