Magento 2 – a New Era in eCommerce Innovation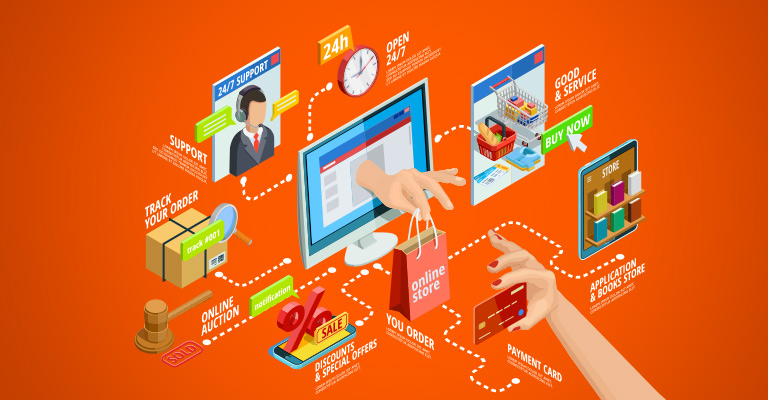 The eCommerce sector has come a long way and with the many innovations shaping the industry, Magento 2, comes out on top. It delivers performance and scalability gains compared to the earlier versions, by offering eCommerce businesses, brands, retailers across the B2B and B2C industries a cost-effective medium that provides an engaging multichannel shopping experience for their customers. Magento 2 offers unmatched innovation opportunities and flexibility, and this way, it has ushered a new era in eCommerce innovation.
The new and improved platform offers two unique and distinct products that are available for download, the Magento Enterprise Edition 2.0 and the Magento Community Edition 2.0. So, what can you expect from this new platform.
Engaging Shopping Experiences
The Magento 2 is a mobile-friendly platform that offers customers seamless and personalized shopping experiences for customers on all devices. It comes loaded with a responsive design reference themes that allow you to create sites in half the time it would take the older version. It also enables you to share your products in a more immersive way via integrated video. With the one-click account creation, you can save user profiles for future purchases, and you can improve conversion rates with minimal steps that require less information.
Enhanced Business Productivity and Agility
Magento 2 in its quest to revolutionize the eCommerce sector, is bent on enabling merchants to operate with more efficiency. You will be able to scale up your online business without increasing the number of people in your team. With the all-new admin panel, you will be able to manage your daily tasks through the streamlined interface, and it is easy for your team members to learn it.
The best part has to be the fact that it is touch-enabled, which means that you can track sales and update your site on the go from any device. There is also a plethora of performance business tools that allow you to customize your operations for faster scalability.
Secure Payments
Magento 2 comes integrated with some of the most secure payment options in the industry today. They include Braintree, Authorize.net, and PayPal payment gateways. The Enterprise and Community editions of the Magento 2 provide improved security as well as the ability to pursue PCI compliance depending on your preferred payment method.
Conclusion
There are not as many products like the Magento 2 available on the market, and when compared with those that come close, it is the pack leader. You can try out the free demo and see how it will improve your eCommerce experience.
If you're looking for a new eCommerce platform to replace your outdated store – or if you are a new business wanting a state-of-the-art eCommerce platform so you can compete in your market – you should strongly consider Magento. We at North Texas Web Design have local, in-house Magento experts (not outsourced overseas) and are ready to help you with any Magento questions you may have.
See what some of our customers say about us!
We have had the great pleasure of working with Mike McLeland for a number of years now. The quality of our website is fabulous. The true test is of course, does it make the potential clients want to take the time to inquire about our services? It absolutely does this. He created it so that it is easy for that potential client to decide quickly and with ease that they want to know more about us and our services. This is rare because a lot of websites in our industry in particular are extremely hard to move around once you have arrived.Additionally, Mike has a rare quality as a Web Designer. He understands who he can send an email filled with technical terms to and who he shouldn't. The owner of our company receives the technical emails and I get the total opposite. This makes it so much easier for us to work with him.Lastly, his level of care is, " Off the Charts!" There I no other way to describe it.I hope a lot of other businesses use his services.

By Pamela Hackley of H1 Construction

Stellar! Mike and his team overhauled my website lickety split and are always prompt to respond when I need help maintaining the site to make new changes. I appreciate Mike's personal style of no-nonsense, straight to business, conquer the mountain approach to a goal while at the same time he has a special way to let you know he personally cares about each and every project in a way no other business owner takes time to express.

Kendra Dickson with Gold Buckle Barrel Horses

Over the past 30 years of my career I have had the opportunity to work with a number of IT professionals. I have never worked with someone as good as Mike. He is incredibly responsive even for the smallest requests and makes major changes happen at a very fast pace. I am, repeatedly, impressed every time I have an interaction with him. He is so respectful of his clients and understands, especially with someone like me that has limited IT knowledge and capabilities, how to speak my language so that I understand what is going on. I would highly recommend him for anyone looking to drastically improve their IT capabilities and web design whether it be a small company or a large one.

By Kim Reed of Mimi's Wig Boutique
Listed below are a few Magento Web Design Resources for you to review:
More about North Texas Web Design