Magento 2 Payment Methods & Extensions
Magento 2 Payment Methods & Extensions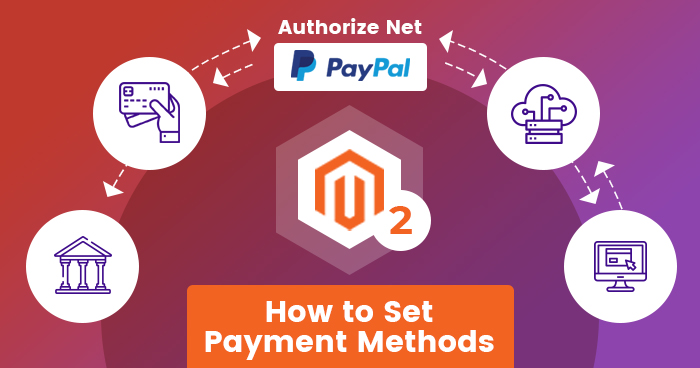 Starting an eCommerce site can be difficult, and one of the most common problems our clients run into when starting their site is payment methods. Many platforms don't offer modern solutions to payment methods or are heavily burdened by their inefficient payment methods.
Luckily, Magento 2 offers real-world solutions at cheaper prices than other platforms offering similar solutions. 
Setting up payments with Magento 2 is much simpler than other platforms. To start, head over to the "stores" tab on your Magento interface. Under "All Stores," you'll spot a button for configuration. After clicking it, you'll enter the "sales" tab. You'll be able to manage all your payment methods from this tab.
When you first set up your payment options, make sure to set up your location under "merchant location." After setting your location, you'll be able to choose from a wide variety of payment methods including Braintree, bank transfer, money orders, check orders, and many options for PayPal. Many of these options require additional setup so make sure after selecting them you check out their details with the drop-down arrow located next to them.
Some users of Magento 2 need other payment options available to them beyond what it offers "out of the box." Fortunately, Magento has a large support for 3rd party payment extensions to make this possible.
Along with adding different payment methods, some 3rd party extensions will allow you to manage extra fees in addition to normal payment. This can be helpful for your eCommerce site if you decide to charge cart fees to generate extra profit. Some of these extensions can even handle shipping fees.
Another benefit to payment extensions is that they let you customize your customers' experience at checkout. Many extensions will let you add service options such as gift wrapping options and warranty options. These choices will make your eCommerce site more competitive and user friendly.
Keep in mind you will need to pay for these extensions; however, North Texas Web Designs can help you through the process. If you're interested in learning more, we have practical experience with helping people start their own effective eCommerce site with Magento 2 here in Plano, Texas. Of course, we would be happy to help you in other locations as well. Give us a call at (214) 534-6830, and we can help you create a better, more efficient eCommerce site!
North Texas Web Design specializes in Magento 2 eCommerce websites. As many of our customers desire "one stop shop", we offer annual web hosting on our Linux server – dedicated to Magento hosting only. 
See what some of our customers say about us!
Working with Mike at North Texas Web Design has been a breeze! He is able to take my ideas and make them happen. He gave us exactly what we wanted and with very fast service!

Angela Williams and Your Super Inspector

Over the past 30 years of my career I have had the opportunity to work with a number of IT professionals. I have never worked with someone as good as Mike. He is incredibly responsive even for the smallest requests and makes major changes happen at a very fast pace. I am, repeatedly, impressed every time I have an interaction with him. He is so respectful of his clients and understands, especially with someone like me that has limited IT knowledge and capabilities, how to speak my language so that I understand what is going on. I would highly recommend him for anyone looking to drastically improve their IT capabilities and web design whether it be a small company or a large one.

By Kim Reed of Mimi's Wig Boutique

We have had the great pleasure of working with Mike McLeland for a number of years now. The quality of our website is fabulous. The true test is of course, does it make the potential clients want to take the time to inquire about our services? It absolutely does this. He created it so that it is easy for that potential client to decide quickly and with ease that they want to know more about us and our services. This is rare because a lot of websites in our industry in particular are extremely hard to move around once you have arrived.Additionally, Mike has a rare quality as a Web Designer. He understands who he can send an email filled with technical terms to and who he shouldn't. The owner of our company receives the technical emails and I get the total opposite. This makes it so much easier for us to work with him.Lastly, his level of care is, " Off the Charts!" There I no other way to describe it.I hope a lot of other businesses use his services.

By Pamela Hackley of H1 Construction
More about North Texas Web Design