Magento – Your Gateway to Growing Sales
Magento is a website platform built for eCommerce businesses. With so much to offer the user, the platform provides an excellent resource to help businesses get noticed and grow their sales. With multiple businesses continuing to flourish through the use of the platform, many more are considering the change to Magento over their current provider.
Scalability & Performance
Magento allows the owner to start out small and then get bigger with time. When the business starts becoming more profitable, the website can then be upgraded and added to. This gives the business a way to increase their sales even more and perform even better in the eCommerce world.
Many eCommerce platforms do not allow for this type of expansion on their programs. This is one of the biggest factors that larger online retailers enjoy working with Magento over other programs that do not let them expand as much when their business becomes more successful.
Page Access Rate (Speed)
The speed and performance of the pages through Magento are extremely fast, especially when compared to some other eCommerce platforms. They provide the user with a way to quickly load the pages to find what they want with little resistance. Additionally, there are numerous tips that are given to help boost the speeds of these pages so that you're able to quickly open each page at an even faster rate.
Mobile Friendly
Mobile-based websites are a must within the fast-growing world of online business. Due to this, many providers are offering a mobile-friendly version of their platforms. This provides them with a way to reach even more customers through their mobile devices, not just through PC platforms. Customize an entire website made for mobile devices that mimics the larger version, while giving customers the capabilities to shop with the same ease and comfort of a full powered PC or laptop.
Both Magento 1 & Magento 2 are Options
Both platforms provide the user with options built with them in mind. The eCommerce solutions for each are a bit different. Some that are new to the Magento platform enjoy using version 1, while others prefer version 2. Depending on your level of experience with the platform, you may feel more comfortable using one or the other. Each one is tailored for your specific business needs.
Store Management
Managing a store has become easier than ever with the use of the tool bar through Magento. Even those that have never managed an online store before are able to do so easily. Everything is placed in organized areas that can be jumped through with ease, making Magento the premium choice for online business owners.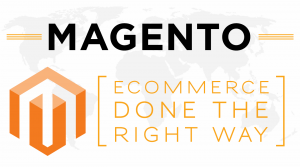 Additional Magento Resources
Two Magento Websites
LIVE or Under Construction