Magento 2 eCommerce ON SALE
North Texas Web Design proudly offers Magento 2 eCommerce websites to our growing list of products we specialize in!
More importantly, Magento 2 eCommerce is now ON SALE at WAY BELOW industry average pricing!
Magento is the perfect platform if you have a LOT of products to sell, or you have complex products, or you need a platform that can grow and expand as your business continues to grow. Listed below are some of the many features available with Magento eCommerce websites.
Call us at 214-534-6830 for details!
CHECKOUT, PAYMENT, & SHIPPING
One-Page Online Checkout
Integrated for Real-Time Shipping Rates from UPS®, FedEx®, and USPS®
Integrated with Amazon Payments, PayPal, Authorize.net, and Google Checkout
Ability to Accept Checks, Money Order, and Online Purchase Orders
SSL Security Support for All Online Order and Sensitive Transactions
Online Tax and Shipping Calculation and Prior to Checkout Estimates
Option to Create Account as Part of Online Checkout Process
Gift Message Management
Configurable Saved Cart Expiration
Multiple Shipping Address Management
Online Order Tracking from Customer Account
Ability to Manage Multiple Shipments on a Single Online Order
Destination Country Management
Per Order and Per Item Flat Rate Shipping Option
Free Shipping Functionality
Manage Shipping by Weight and Destination
SEARCH ENGINE OPTIMIZATION (SEO)
Light Footprint Design for Fast Load Time and Search Engine Optimization
Google Site Map Creation and Site Map Auto Generation
Search Engine Friendly URL's Including URL Re-write Controls
META Information Management at Product and Category Levels
Auto-Generated Popular Search Terms Page
ANALYTICS AND REPORTING
Integration with Google Analytics
Admin Report Dashboard with Business Overview
Sales Reports Including Total Sales and Returns
Tax Reports
Abandoned Shopping Cart Reports
Best Viewed Products Reports
Top Sold Products Report
Low Stock Item Report
Onsite Search Terms Report
Product Reviews Report with RSS Support
MARKETING PROMOTIONS AND TOOLS
Online Poll Creation and Management
Newsletter Management
Catalog Promotional Pricing and Controls
Flexible Coupons Rule and Pricing Restrictions
Free Shipping Promotion Management
Multi-Tier Pricing for Volume Discounts
Bundled Products Options
Send to a Friend and Wishlist Management
ORDER MANAGEMENT
View, edit, create and fulfill orders from admin panel
Create one or multiple invoices, shipments and credit memos per order to allow for split fulfillment
Print invoices and packing slips
Email Notifications of Orders
RSS feed of New Orders
CUSTOMER SERVICE
Contact Us form
Feature-rich Customer Accounts
Order History with Status Updates
Order Tracking from Account
Password Reset email from front-end and admin panel
Order and Account Update Emails
CUSTOMER ACCOUNTS
Order status and history
Re-orders from account
Recently ordered items
Address Book with unlimited addresses
Default Billing and Shipping addresses
Wishlist with ability to add comments
Email or Send RSS feed of Wishlist
Newsletter Subscription management
Product Reviews submitted
Product Tags submitted
CATALOG MANAGEMENT
Inventory Management with Backordered items, Minimum and Maximum quantities
Batch Import and Export of catalog
Batch Updates to products in admin panel
Google Base Integration
Simple, Configurable (e.g. size, color, etc.), Bundled and Grouped Products
Virtual Products
Downloadable/Digital Products
Customer Personalized Products – upload text for embroidery, monogramming, etc.
Tax Rates per location, customer group and product type
Attribute Sets for quick product creation of different item types
Create Store-specific attributes on the fly
PRODUCT BROWSING
Multiple Images Per Product
Product Image Zoom-in Capability
Product Reviews
Related Products
Stock Availability
Multi-Tier Pricing Upsell
Product Option Selection
Grouped Products View
Add to Wishlist
Send to a Friend with Email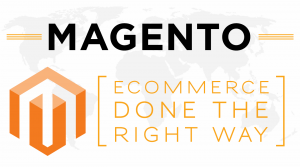 Additional Magento Resources
Two Recent Magento Websites
LIVE or Under Construction