What is Magento and why should you consider it?
Magento is open source software. The term "open source" refers to something people can modify and share because it's design is publicly accessible. Said differently, open source software is software with source code that anyone can inspect, modify and enhance.
Magento is not only "open source", but Magento is an open source eCommerce software platform which provides online merchants with an extremely flexible shopping cart system, capable of inventorying a few products to tens of thousands of online products. Magento also allows amazing control over the look, content and functionality of your Commerce store.
Because Magento also offers powerful marketing, search engine optimization, and catalog-management tools, we believe Magento is one of the best eCommerce platforms available today – especially for online stores with a lot of products.
Magento's ability to scale allows online stores with only a few products and simple needs to easily expand to tens of thousands of products. Magento offers a variety of extensions (plugins) and templates which can easily enhance a customer's experience.
Magento is known for its top of the line order security and product management options that include custom reporting features. With Magento, it is easy for an online store owner to view periodic transaction history, change product descriptions, add images, export reports, and add or remove items.
One of the more important aspects of Magento is it's behind the scene Dashboard can easily be utilized by people who aren't overly computer savvy. In other words, store owners can easily add, remove and edit products and product categories without the assistance of their developer.
Benefits of a Magento eCommerce store:
A vast array of templates using both Magento 1.9 and Magento 2.0 layouts and features

Easy to install and add extensions (plug-ins) for additional features

Mobile and SEO friendly

Effective and cost sensitive program

Fast loading store

Limitless options

Supports more than 50 payment gateways
If your current eCommerce platform is not keeping up with the demands of your growing business – or your store needs a major update – or you're opening a new online store for the first time – consider Magento – and consider North Texas Web Design as your Magento designer.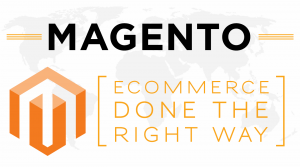 Additional Magento Resources
Two Magento Websites
LIVE or Under Construction