Online Firearms Website
In May of this year, within 10 days of each other, we were approached by two entirely different clients to build them a new online firearms website. Both had what appeared to be identical requirements. This turned out to be beneficial as we were able to share some of the customization expense.
You can visit either of these two websites at Republic of Texas Arms and Texas Gunslingers, which were launched in late August.
There initial requirements included:
An online eCommerce store using a 3rd party eCommerce shopping cart
An interactive interface with their Drop Shipper – RSR Group – with capabilities of inventorying 20,000 products from this one Drop Shipper – with options to add additional drop shippers in the future
A Credit Card merchant that accepted credit card payment for online guns sells (something PayPal and the larger credit card merchants – like Authorize.net – will not accept. We discovered that Trust Commerce, a west coast credit card merchant, was the perfect merchant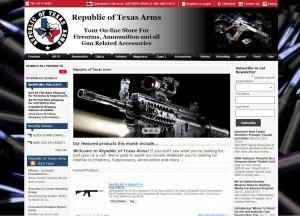 We first set out to find a new shopping cart that could be integrated with Trust Commerce.  Our second requirement was a shopping cart based on "classic asp".  It did not take long to zero in on the NetSource ProductCart shopping cart.  ProductCart is a robust shopping cart with a host of features. In addition, there are several web development firms that have made their business building and customizing add-on applications to work with ProductCart. Both clients quickly agreed to use ProductCart, along with a number of really important add-ons.
Add-ons we've used on these carts include:
Mobile add-on (turns out this particular add-on is not worth the money, as it will only work with PayPal)
Bulk Image Resizer (a MUCH BETTER way of adding bulk product images to the cart)
Notify Me (allows customers to easily request notification when a product which is temporarily out-of-stock is back in stock – a hugely popular and widely effective add-on)
Product Tabs (allows for multiple tabs to store different information customers can easily view – something we found is extremely popular on firearms websites)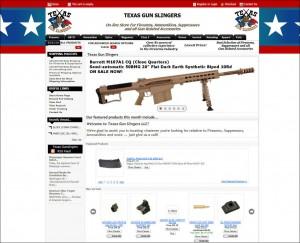 Due to his extensive experience with ProductCart, including cart interface customization, we hired Sean Conners of Web Merchant Services (WMS) to write the customized interface between each cart and RSR Group.
The project certainly took longer than we originally projected, due almost solely to a lack of good documentation by RSR Group, but we ultimately launched both websites towards the end of August.
Each website is hosted on our new Windows cloud server and uses a customized SQL database. Several scripts run numerous times each day, updating product inventory for both these websites. New products are added each weekend, based on data we download each Friday morning from RSR Group.
Each website now has over 17,000 firearms and related products, which are drop shipped directly to the end customer. Each cart is completely independent of each other, and over time, will continue to evolve as their business model evolves.
Probably the most unique feature of each website is the customized Narrow By feature WMS developed.  Effectively, Sean Conners was able to modify the core ProductCart feature to display drop down options when doing searches. This modification is WAY BETTER than the way the core feature is designed to work by NetSource.
If you're interested in an online firearms website, especially one that uses the NetSource ProductCart and interfaces with RSR Group as your Drop Shipper, you should contact North Texas Web Design. The key learning's from this project would allow us to have a new online firearms website up and operational within 30 days, and at significant savings over what we incurred while building both of these websites.
Contact us at 214-534-6830.