Top 5 Reasons to Consider Magento as the Platform for Your New eCommerce Store
Have you been trying to figure out what platform to use for a new eCommerce store? If so, then one of your top considerations needs to include Magento. Over 25% of eCommerce stores use Magento, giving you plenty of sites to use as reference. Here are some of the top reasons you may want to turn to Magento as the ideal platform for your new eCommerce store.
Magento is Easy to Customize
When you want to be able to show off your products, Magento makes that possible. The free version of Magento is open-source, meaning that you can customize it to use it how you want to use it. Show off the perks of your products, and make sure that your customers know how amazing everything is that you have to offer.
SEO is Easier on Magento
Most of the features that you naturally want with a good SEO campaign, are built into Magento. Want a super-fast loading speed? Magento has it. When you install Magento, you get a lot of the SEO basics already covered. You can have a sitemap, a keyword-friendly URL, and more to help boost your ranking.
Database Control
Since you can control everything you need from Magento's backend, you can make it easier on yourself, no matter what size of eCommerce store you have going. From five products to 5,000, you can control it all from one central location. You can keep an eye on customers, product inventory, payments, shipping, and more all from a single location on the backend of your eCommerce store.
Third-Party Apps Can Easily Be Integrated
One of the biggest benefits of turning to Magento for an eCommerce store is that you can easily change out what the platform does to suit your needs. This can be done through extensions created by third-party community members. There is a huge community that helps build up what Magento is capable of. If you want something that you cannot get out of standard Magento, look there and you will likely find it.
Magento Helps Keep Your eCommerce Store Secure
Need security? Again, you can find that built into Magento. First, you get integrated payment options. Second, you get complete protection because the platform itself is created to be secure across payment gateways. Finally, you also get the option of using multiple different currencies, allowing you to accept safe payments in all different parts of the world.
If you want to create the perfect eCommerce store, then you want to give Magento some serious consideration. It allows you to get all of the perks of other platforms, without any of the drawbacks.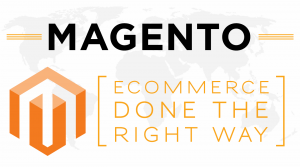 Additional Magento Resources
Two Magento Websites
LIVE or Under Construction