What's New in Magento 2.3 Release?
What's new in Magento 2.3 Release?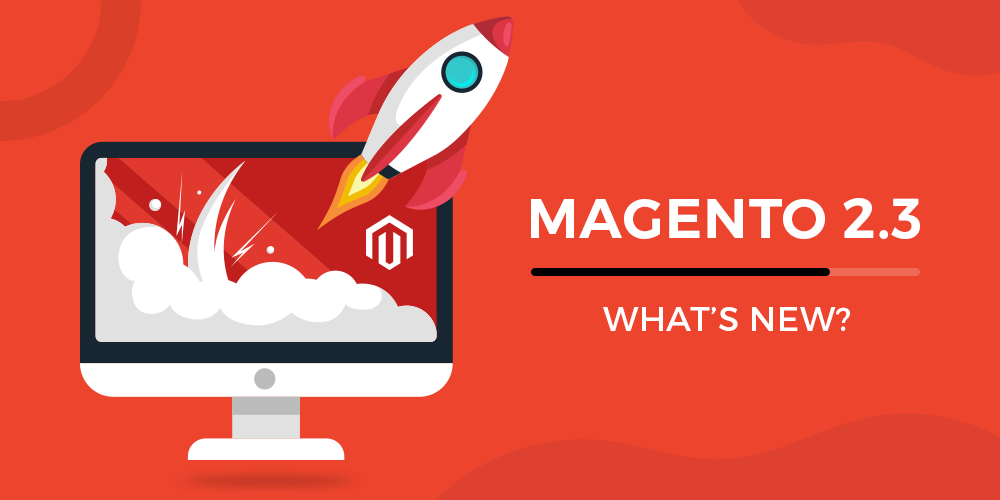 Are you still running your store with the old Magento version? It's time to migrate to Magento 2.3. Read on and find out about the newest Magento features and how to update Magento store to 2.3 version.
On June 25, 2019, the newest version of Magento, Magento 2.3 was released.  We're thrilled that Magento continues to grow and evolved their world renowned eCommerce platform, empowering sellers and enhancing customer experience by upgrading Magento to better suit their needs and wants. We congratulate the Magento company with the new feature-rich release and are happy to be partners with such a prolific enterprise.
Magento 2.3 Version Highlights
A great number of security enhancements and various performance improvements were introduced in Magento Commerce and Magento Open Source 2.3.
Magento 2.3 Security
The new version brings numerous improvements in advanced Adobe's security tools and Adobe Hacker. They will help close cross-site scripting, remote code execution, etc.
What's more, there is a Google reCAPTCHA module created for PayPal PayFlow checkout.
Magento 2.3 Performance – the Main Features are:
Product images loading together with other page content
Up to 90% enhancement in category browsing for sellers with large catalogs
Storefront page-load time was considerably improved
Checkout page redesign to support clients working with many addresses
Upgraded concurrent access to block cache storage
Magento 2.3 Productivity
It's now possible to perform several tasks as asynchronous background processes, which enables admins to go on working while actions are being operated on the background.
Magento 2.3 Quality
There are more than 130 product quality improvements in various platform critical areas.
One of the core improvements is the upgraded user interface for assigning sources to products. Another enhancement is a new endpoint for Bulk Partial Stock Transfer.
Magento 2.3 Performance Boosts
Significant improvement to storefront page response time. Magento introduced several essential changes in the page response times for the catalog, search, and advanced search pages.
Improved Concurrent Access to Block Cache Storage
This was a critical issue for all Magento store owners and needed to be improved. Now, the concurrent access to the block cache was advanced, which has increased the response of storefront pages under high load by around 20%.
Product Page Gallery Load Optimization
Product images are now loaded as fast as other page content and don't need additional time to load completely.
Improved Page Rendering
All non-critical JavaScript code has been shifted to the bottom of storefront pages, which increases the speed of page rendering.
It also enables users to see the whole page faster while irrelevant elements remain inactive.
Infrastructure Improvements
Infrastructure is a vital aspect of every eCommerce enterprise for customer satisfaction and retention, and Magento paid careful attention to this area of its eCommerce solution.
There are 130 enhancements in this release, which increase the Framework quality and these modules:
Catalog
Sales
Checkout / One Page Checkout
UrlRewrite
UI
Merchant Tool Enhancements
Infrastructure is a vital aspect of every eCommerce enterprise for customer satisfaction and retention, and Magento constantly works to improve it. There are new functions such as asynchronous background processes and sending system messages to alert Admin users when tasks complete.
Shifting these typical tasks to the background enables admins to work on other problems while the primary ones are being processed on the background.
Below Industry Pricing for Magento 2.3 eCommerce Websites
at North Texas Web Design!
See what some of our customers say about us!
Stellar! Mike and his team overhauled my website lickety split and are always prompt to respond when I need help maintaining the site to make new changes. I appreciate Mike's personal style of no-nonsense, straight to business, conquer the mountain approach to a goal while at the same time he has a special way to let you know he personally cares about each and every project in a way no other business owner takes time to express.

Kendra Dickson with Gold Buckle Barrel Horses

We came to North Texas Web Design as a new company offering products which are most often searched for on the web. Our website has been one of our most valuable business tools, as we knew it would be. Mike and his team worked very hard to understand our business and the challenges we faced in a very competitive market. I couldn't be happier with our decision to choose them to design our website. We're very proud of it and they are always there when we need to add products or make any changes to the site. We made a great decision to use North Texas Web Design and it pays off for us daily.

US Eco Solutions

Over the past 30 years of my career I have had the opportunity to work with a number of IT professionals. I have never worked with someone as good as Mike. He is incredibly responsive even for the smallest requests and makes major changes happen at a very fast pace. I am, repeatedly, impressed every time I have an interaction with him. He is so respectful of his clients and understands, especially with someone like me that has limited IT knowledge and capabilities, how to speak my language so that I understand what is going on. I would highly recommend him for anyone looking to drastically improve their IT capabilities and web design whether it be a small company or a large one.

By Kim Reed of Mimi's Wig Boutique
Additional Magento Resources: