Why Your Website Needs an SSL Certificate
Why Your Website Needs an SSL Certificate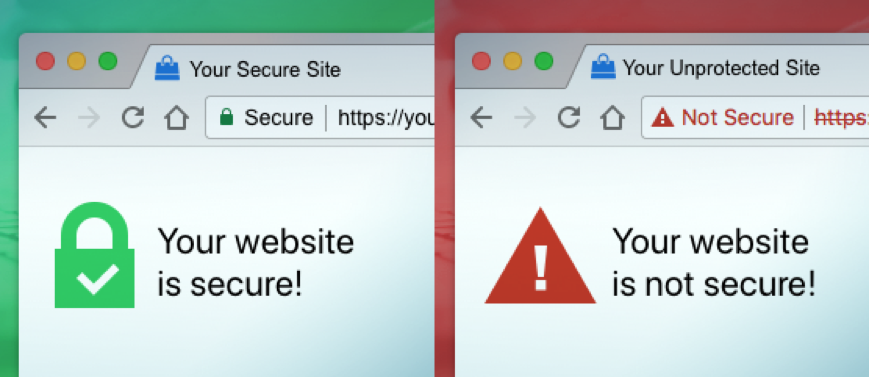 The internet is rich with cyber-threats ranging from anonymous insults to multi-million-dollar thefts. Insecure web sites and spoofed web sites are two common ways that cyber-criminals steal information from unsuspecting victims. SSL-certified websites dramatically reduce the risk of hostile parties seizing other users' information or infecting other users with malware or viruses.
What is an SSL Certificate?
"SSL" stands for "Secure Sockets Layer." It transforms a certified web page's protocol from "HTTP" to "HTTPS," indicating that the connection between the client and server is secure. The server uses public-key encryption, a highly secure encryption method where only users who have a "private key" can decipher data encrypted with the "public key." The established connection encrypts every piece of information that passes through it. External invaders who seek unauthorized access to the data will get only indecipherable gibberish.
How to Secure a Website
The quickest and easiest way to secure a website is to hire a third-party to secure the website. Most organizations will charge a fee to install the certificate. However, there is at least one non-profit organization on the internet whose goal is to provide free SSL certification to as many websites as possible. When selecting an SSL provider, web site owners should thoroughly examine the organization's credentials, services offered, and prices. And if the organization's web site is not SSL-certified, the potential customer should seek another provider immediately.
Benefits of an SSL Certificate
Any business-related website should have SSL certification, especially when the business stores personally identifiable information or financial information. A great rule of thumb for users is to not enter sensitive information such as social security numbers or credit card numbers to sites without SSL certification. The presence of an SSL certificate can create an additional level of trust between a user and a business due to the indication that privacy and security are priorities to the company. SSL certification also improves the performance and speed of the web site.
Many web sites provide warning or error messages when a user attempts to access an insecure website; SSL-certified sites do not trigger these error messages, making it easier for potential customers to access the website. And many web search engines – including Google – give SSL-certified web pages higher priority in search results.
If you're seeking an SSL-certified website for your business, then we at North Texas Web Design are the right team for the job. We provide high-quality IT services to customers in Denton, Dallas, Grayson County, and Collin.
On July 1, 2018, Google started marking websites NOT behind a SSL as NOT SECURE. Within a month, all other major search engines followed Google's lead. We at North Texas Web Design encourage all website owners to put your website behind a SSL. Whether you are from Dallas, Denton, Tarrant, Collin, or Grayson County, we'll make sure you have the best value for money anywhere!
See what some of our customers say about us!
Mike McLeland at Plano Web Design helped our company build our website many years ago. Not only did he do an exceptional job of guiding us on what works well when designing a website, but has continued to provide excellent advise and service over the years. He always responds immediately to any questions or needs that we have and is always exceptionally helpful with ideas and suggestions.

By Becky Hary of Speech and OT

North Texas Web Design delivered every positive expectation you can have for an IT project … coached user definition of desired result, delivered on time, in budget, with an on going operational environment that receives continued support, assistance, and attention … A+

Guy George of Butterfield Stage

Over the past 30 years of my career I have had the opportunity to work with a number of IT professionals. I have never worked with someone as good as Mike. He is incredibly responsive even for the smallest requests and makes major changes happen at a very fast pace. I am, repeatedly, impressed every time I have an interaction with him. He is so respectful of his clients and understands, especially with someone like me that has limited IT knowledge and capabilities, how to speak my language so that I understand what is going on. I would highly recommend him for anyone looking to drastically improve their IT capabilities and web design whether it be a small company or a large one.

By Kim Reed of Mimi's Wig Boutique